and Jaap Horst present:
---
Various Classic Automobiles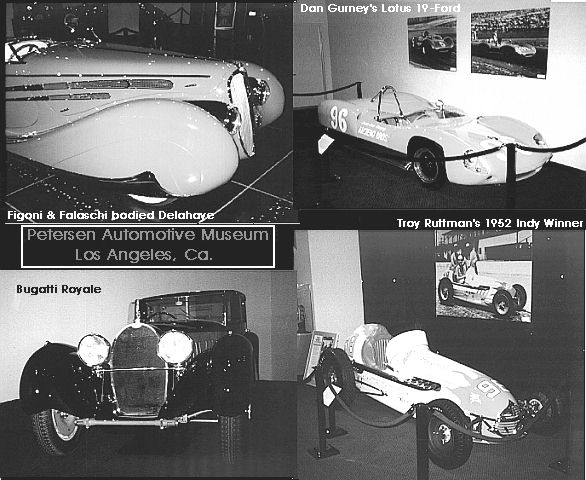 Main Page
Auto Union

Germany
1958 1000S 43kB
BMW
Germany
60's 507 59kB
Borgward
Germany
1960 Isabella Coupe 62kB
Daimler, Benz, Mercedes
Germany
1885 Benz Three wheeler 135kB, The "first" car: the 1.7-litre, single-cylinder Benz of 1885 had belt-and-chaindrive, water-cooling and elliptic springs a shown. Today the layout would be termed 'mid-engined'.
1886 Daimler-Maybach 120kB, The Daimler-Maybach partnership produced the world's first motorcycle in 1885. Their first four- wheeler was this converted carriage, fitted in 1886 with Daimler's engine.
1903 Mercedes 95kB
1936 Mercedes Benz 500K 122kB
de Dietrich
France/Germany
1905 De Dietrich 84kB, is this based on a Bugatti design?
Glas
Germany
1967 Glas V8 31kB, the "Glaserati", later build as BMW
Images from the Petersen Museum 71kB, B/W
Rumpler
Germany
20's Rumpler Tropfenwagen (Tear-car) 64kB, Streamlining!
Tatra
Tcechoslovakia
1932 Tatra 52 54kB
30's Tatra 77a 98kB
1938 Tatra 75 34kB, front
1938 Tatra 75 38kB
30's Tatra 87 105kB, front view, description
30's Tatra 87 106kB, back view
Tatra 87 109kB
1949 Tatra 600K 65kB
Volvo
Sweden
Volvo P1800 S 68kB, The only Volvo ever made, worth looking at!
Volvo P1800 S 73kB
---
Pictures of movie specials
Batman's car, first version 30kB, front view, actually a replica!
Batman's car, first version 36kB, rear view
James Bond's DB5
side view 88kB
front view 80kB
front view 74kB
rear 73kB
front view 71kB
James Bond's Lotus Esprit 50kB
---
Pictures of details
90's Fiat Punto 131 HP Engine 71kB Main Page

, BugattiPage , Bugatti revue , Pebble Beach 96 / 97 , Advertisements , French , Netherlands , Prototypes , British , American , Italian , Various , Racing , Motorcycles
---
If you recognize any unknown cars, or detect any incorrect names, please E-mail me at J.J.Horst@bigfoot.com

---
Last modified March 22, 2000